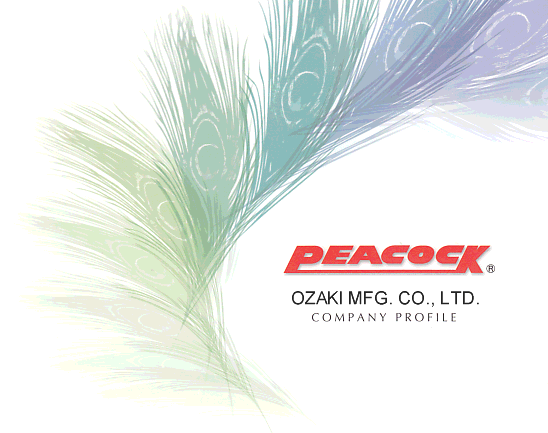 Since 1916, we OZAKI MFG. CO., LTD. has been devoting
themselves in develop of Precision Measuring Instruments
in world known brand of PEACOCK which has become the
sign of highest accuracy and reliability.

To meet your needs, there is "PEACOCK" and you can
count on our best high quality measuring instruments by
skilled professionals.

We intend to continuing to evolve by our relationship with
our valuable customer.
ISO 9001 Certified
OZAKI MFG. CO., LTD.
We, OZAKI MFG. CO., LTD. received ISO 9001 certification in 1999 and now
renewed 2015 edition. We have been supplying high quality measuring
instruments with reliable brand "PEACOCK" to our customers not only Japan but
also overseas countries.

ISO Certification for
DIAL GAUGES, PIC TEST INDICATORS, CYLINDER GAUGES AND
ITS APPLIED DIAL GAUGES.
| | |
| --- | --- |
| Management System Certificate ( COPY ) | Appendix ( COPY ) |
| | |
Company Profile
COMPANY NAME
OZAKI MFG. CO., LTD.
REGISTERED TRADE MARK
PRESIDENT
KAZUO FUKAHORI
FOUNDED
APRIL 10, 1916
ESTABLISHED
JANUARY 5, 1939
CAPITAL
100 million yen
BUSINESS FIELD
Manufacturing and Selling of Precision
Measuring Instruments under the
Measuring Law.
PRODUCTS
· DIAL GAUGE
· CYLINDER GAUGE
· PIC TEST INDICATOR
· DIGITAL LINEAR GAUGE
· SIGNAL GAUGE
· VARIOUS KIND OF AUTOMATICAL
SORT MACHINE
· APPLIED DIAL GAUGES
International Distributors
Network Profile
INTERNATIONAL DEPT
TEL: 81-3-3966-1109
FAX: 81-3-3558-1868
HEAD OFFICE
1-63-11 TOKIWADAI, ITABASHI-KU,
TOKYO 174-0071 JAPAN
TEL: 81-3-3966-1101
FAX: 81-3-3969-1276
CHIBA FACTORY
684, CHIGUSASHINDEN, FUTTU-CITY,
CHIBA 293-0036 JAPAN
TEL: 81-439-65-1155
FAX: 81-439-65-3612
NAGOYA SALES OFFICE
14-27, FURUWATARICHO, NAKA-KU,
NAGOYA-CITY, AICHI 460-0025 JAPAN
TEL: 81-52-331-4730
FAX: 81-52-331-9144
OSAKA SALES OFFICE
3-7-13, ITACHIBORI, NISHI-KU,
OSAKA-CITY, OSAKA 550-0012 JAPAN
TEL: 81-6-6543-3909
FAX: 81-6-6535-0364
AKITA FACTORY
1, TOSHINDAI, OGIDA, HINAICHO,
KITA-AKITA-GUN, AKITA 018-5701 JAPAN
TEL: 81-186-55-0791
FAX: 81-186-55-0791
| HOME |
| Page Top |



---

Design and specifications are subject to change without notice for future improvement.

---